¿Por qué el endometrio importa? 
El endometrio es un factor clave para un embarazo saludable. 

La endometritis crónica afecta hasta al 30% de las pacientes infértiles.**
En casos de fallo de implantación recurrente o abortos de repetición puede ascender al 66%.**
La baja presencia de Lactobacilos junto con la presencia de algunos patógenos específicos se asocia a peores resultados reproductivos.***
3 de cada 10 pacientes tienen una ventana de implantación desplazada.****
¿Qué es el test EndomeTRIO?
EndomeTRIO es un análisis completo de la salud endometrial. EndomeTRIO incluye los test ERA, EMMA y ALICE:
¿Cuál es el procedimiento?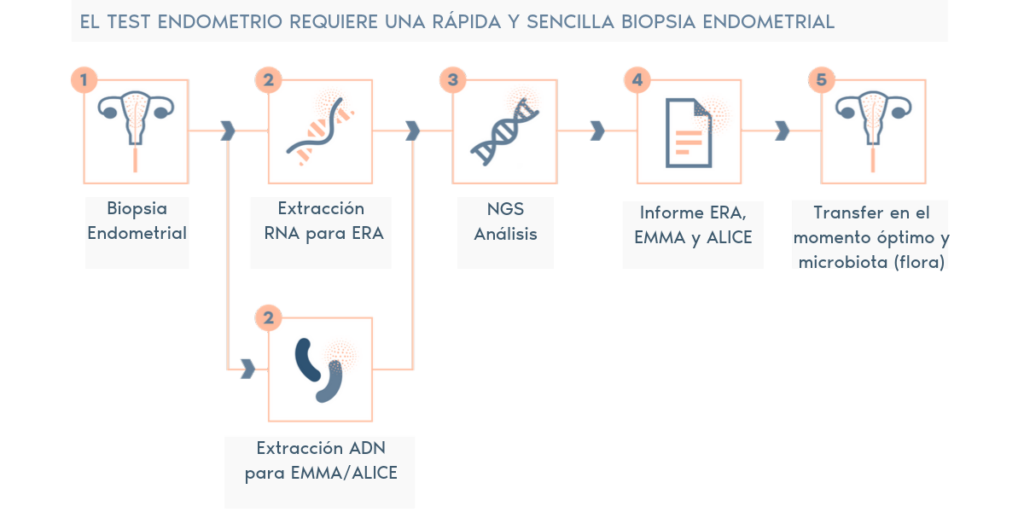 *Simón et al., In vitro fertilization with personalized blastocyst transfer versus frozen or fresh blastocyst transfer: a multicenter, randomized clinical trial. Fertility and Sterility, 2019; 112. e56-e57. 10.1016/j.fertnstert.2019.07.273.
**Cicinelli et al. Reprod Sci 2014; 21(5):640-7. Cicinelli et al. Hum Reprod, 2015; 30(2):323-30.
***Moreno et al, AJOG 2016. Evidence that the endometrial microbiota has an effect on implantation success or failure.
****Ruiz-Alonso et al; 2013.